The 2nd World Ramen Summit
Dates:February 11 (Thu)–12 (Fri), 1999
Venue : Bali (Indonesia)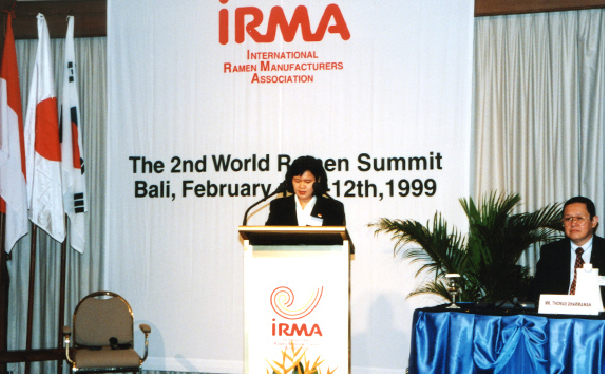 Overview

Declaration

Photo
Collection
Overview
February 11 (Thu)–12 (Fri), 1999
Bali International Convention Centre
Indonesian Food and Beverage Association,
Indonesian Marketing Association.
Bali Declaration
The Second World Ramen Summit (1999) was attended by nine instant ramen manufacturers and one manufacturers association from nine countries and regions of the world. The participants exchanged views on the status of instant ramen production, distribution, and consumption worldwide. They also discussed the improvement of instant ramen quality, development of international standards, and the world food crisis forecast for the twenty-first century. The Summit also agreed the proposal of PT. Indofood Sukses Makmur Tbk to have the element Halal included in the Codex draft in order to comply with the requirements of countries of Islamic majority, and Islamic countries in particular. IRMA is also willing to donate to the Indonesian people in need, through the Indonesian Government, 2.5 million packs of instant noodle by a special brand of Mi Peduli IRMA (IRMA Care Noodle). This donation is the positive response of IRMA to the initiative taken by PT. Indofood Sukses Makmur Tbk.
Instant ramen was developed in Japan in August 1958. Forty years on, its popularity has spread worldwide and 43.4 billion servings were consumed in 1997. Consumption of instant ramen is still on the increase.
Instant ramen became a staple food in countries all over the world, because manufacturers worldwide satisfied the five key criteria of making their product convenient and easy to prepare, easily preserved, hygienic and safe, tasty, and affordable, and because they developed and sold products suited to the tastes of local consumers.
The twenty-first century will require food supplies to meet the needs of explosive population growth, as well as relief supplies for refugees and victims of natural and man-made disasters.
Instant ramen is a nutritionally balanced food containing protein, fat, and carbohydrates. As a processed food, ramen counts among those that most effectively retains the original calories of the wheat from which it is made, making it a food that will be valuable as part of any solution to the above food crisis.
We who participated in the World Ramen Summit pledged that we would affirm the value of instant ramen, reaffirming its importance to the public, and to continue our efforts to improve quality, as we move toward expanding consumption to 100 billion servings by 2010.
The members of IRMA further have pledged to preserve the environment, conserve resources, and contribute to promoting health and safety in people's lives worldwide through their corporate activities.