The 3rd World Ramen Summit
Dates:March 14 (Wed)–15 (Thu), 2001
Venue : Bangkok (Thailand)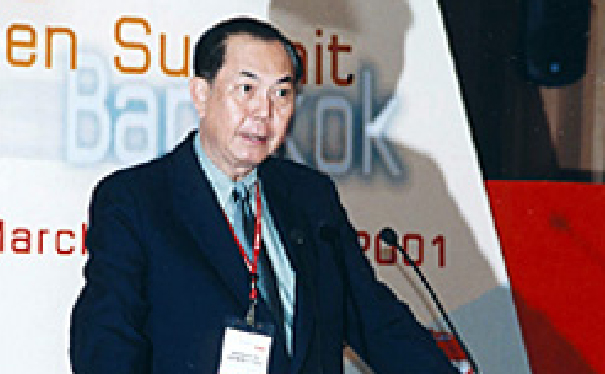 Overview

Declaration

Photo
Collection
Overview
Instant Noodles : The World's Best Alternative Basic Food for the New Millennium
March 14 (Wed)–15 (Thu), 2001
Sofitel Central Plaza Bangkok
Thai President Foods Public Company Limited.
Bangkok Declaration
The 3rd World Ramen Summit/International Ramen Manufacturers Association (IRMA) General Assembly was held with the participation of one Association and nine primary instant noodles manufacturers from around the world, as well as many others who are related to the instant noodles industry.
Participants exchanged ideas and opinions regarding strategies for further growth of the instant noodles industry and the promotion of friendly international relations through instant noodles.
Instant noodles, after only forty plus years since its birth in Japan in 1958, has become a popular food consumed by the people all over the world.
This is not only because instant noodles meet key requirements, such as "easy and convenient," "excellent preservation," "hygienic and safe," "delicious," and "reasonable price," but also due to the fact that manufacturers have continued their efforts and have developed instant noodles that is suitable for each country's traditional food culture and meets consumer preferences.
The world began an era of reconciliation and growth in late 20th century as the Cold War ended. However, the population facing starvation in developing countries is estimated to be close to 792 million.
Unseasonal weather and a decrease in food production due to regional conflicts throughout the world are considered as primary causes of starvation.
We recognize again, at the dawn of the 21st century, that instant noodles have excellent nutritional balance and is a processed food that makes the most efficient use of wheat flour resources. We will continue our efforts to contribute to the resolution of the food problems that confronts society world over.
The 3rd World Ramen Summit/International Ramen Manufacturers Association discussed the technical issues necessary for improvement in the quality of instant noodles and its international standards, the enactment of which was adopted by the CODEX committee last June.
A donation of 3 million packs of instant noodles were presented by the IRMA members to HRH Princess Maha Chakri Sirindhorn of the Kingdom of Thailand to be distributed to those in need.
The members of IRMA pledge that we will strive to preserve the earth's environment and conserve resources as we contribute to healthy and secure lives of people of the world.